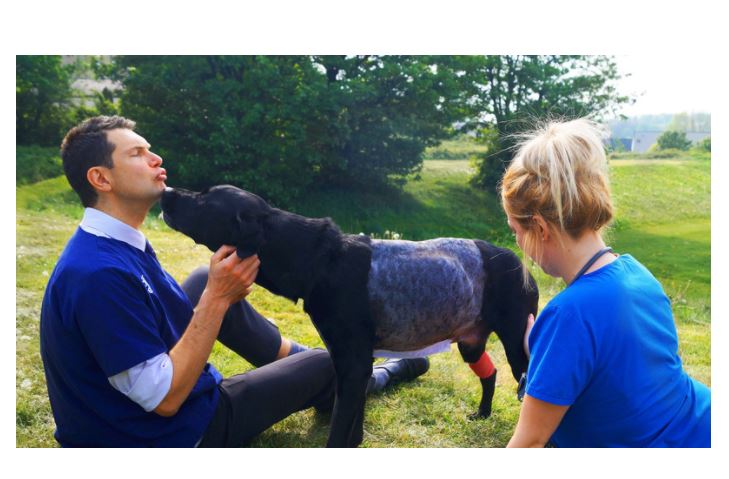 Vets have carried out life-saving surgery on a black labrador after they discovered a massive tumour the size of a rugby ball on one of his lungs.
Six-year-old Sebastian was referred to Calder Vets, which has 12 practices across Yorkshire, with a suspected heart problem after he suddenly started coughing and retching while out for a walk at Temple Newsam Park, near Leeds.
However, when a CT scan revealed an enormous 3kg malignant tumour on the pet's right lung, owners David and Christine Badkin, of Whitkirk, Leeds, faced the difficult decision of whether to opt for surgery to remove it.
David said: "The vets thought it remarkable he was still alive with a tumour of that size inside him. We were aware of the risks of surgery but because Sebastian had fought so hard to survive against the odds, we felt we owed it to him to do everything possible for him."
Calder veterinary surgeons Ian Nicholson, a recognised European expert in small animal surgery, and Joachim Proot, immediately set to work in the operating theatre at Calder Vets' state-of-the-art Dewsbury animal hospital.
The operation was a success and, after a couple days recuperation, Sebastian was returned to his delighted owner.
Veterinary hospital nurse Hayley Buddery said: "Because of the size of the tumour and its position pressing against Sebastian's heart, this was a complex and potentially risky procedure, but everything went well and we're delighted Sebastian has made a full recovery."
Mr Badkin said: "It was a brilliant result. Better still, when the results of further tests came back they showed the cancer hadn't spread so he is, to all intents and purposes, completely cured."