A Happy Life working at Calder Vets
Here at Calder Vets we are extremely proud of the amazing team we have built over the years. We offer the very best quality of care to all of our clients and their pets. We are always interested in hearing from like-minded people who wish to work within such a high performing team.
Being a 24hr Hospital means we can offer you the flexibility to work the hours that suit you. We offer continued training and development for all our team members to ensure you reach your full potential. You must have a great sense of humour, a great attitude and above all be friendly and outgoing.

---
Calder Vets Enriches the Lives of Our Team, Clients and Patients!
It's important to us that our team is happy and harmonious. Compassion, trust, skill and friendship are all key to achieving this. Veterinary Medicine is a way of life. We can choose how to live it.
We're all about our people
Calder Vets is about people. We are here because of our clients. We're human-first and we want the best for our team, our customers, and our patients.
You'll want to work with us if you enjoy an ever-evolving and progressive environment. The skills we all have are important because we elevate each other. We want individuals who push themselves and inspire those around them. It's amazing to have that kind of peer support.
More than just a veterinary professional
Being at Calder Vets does not mean you are just a vet, nurse or administrator etc. Everyone at Calder Vets gets to dip into other areas of interest which means that not only are you always learning and up-skilling yourself but it means your interest is always piqued.
We are a close-knit team of fantastic people who are good at solving problems, speaking to our clients and caring for our patients — but we know that's not enough to be a great practice.
We have also invested extensively in equipment, training and our facilities.
Our Core Values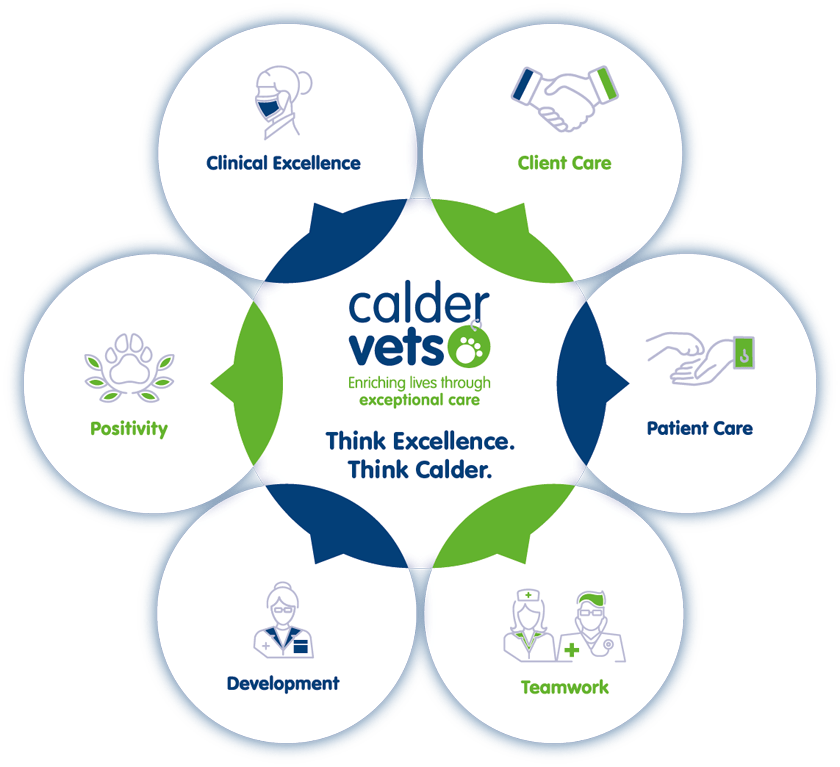 ---
Current Vacancies
Do you think you would be a great addition to the Calder Vets team? This email address is being protected from spambots. You need JavaScript enabled to view it..
Click here to view our job applicant privacy notice.